Curriculum Overview
Theme: Ancient cultures of India, Persia, Egypt and Greece
Fractions, mixed numbers, decimals, beginning geometry
Composition, grammar and syntax, research, drama
Botany
US geography; history and geography of ancient cultures
Painting/drawing
Recorder/flute, choir, violin (as available)
Circular knitting
Physical Education/Movement/Games
Spanish
Class Play
Life Skills
Show respect for teacher, classmates, property, and materials
Come to school with positive attitude
Serve the needs of the group, support others
Work individually or in collaboration with classmates without continued adult guidance and intervention
Get work done in timely fashion
Demonstrate intention to do best work
Be open and willing to work with feedback from teacher and classmates, to work out classroom and social issues
Be inclusive and practice positive social habits
Detailed Curriculum
The fifth-grade year is often spoken of as "the golden year." This title has been given it because of the wonderful place that fifth-grade children, eleven-year-olds, mature to. They are more balanced and poised in themselves than they have ever been before and than they will be again until the completion of the coming years of puberty and its rapid intellectual development.

Fifth graders are physically balanced. Usually able to run and jump easily, they are well proportioned and know their bodies, making them graceful and capable. They have left the roundness and lack of coordination of the young child behind and have not yet begun to grow so quickly in size and strength that their bodies are a continual surprise to them.

Intellectually, fifth graders have a greatly increased capacity for examination, thought and reflection. Their actions are much more planned and considered than in previous years, and their minds can take on a depth and breadth of study previously impossible. The fifth-grade year encompasses a wider scope of study than any previous grade. The children are growing in their intellectual capacities, and the curriculum meets this expansion with the study of ancient cultures, both mythic and historic, from ancient India to classical Greece. Their work reflects this new depth to their understanding and questioning.

The fifth grader also shows a great deal more balance socially and emotionally. A fifth-grade class is usually a harmonious group, with sincere attempts to compromise and apologize being made by all children involved in an argument or dispute. By the end of year, the divisions between boys and girls and among social groupings are diminishing, leading to a smooth and comfortable classroom environment. Fifth graders are also much more capable, taking on more challenging classroom cleaning, chores and work than in previous times.
Language Arts
Greek mythology
Topic statements, rough drafts and revisioning
Book reports and research papers
Grammar
Vocabulary/spelling
Complex memorization of their lines and actions for parts in the 5th grade play

Mathematics
Fractions continued
Decimals
Freehand geometry
Natural Sciences
Earth Sciences
Geography North America
Map Making
Social Sciences
Ancient Mythologies & histories: India, Persia, Mesopotamia, Egypt & Greece
Arizona History
North American Culture
Native American History
Early Settlers
Fine Arts
Watercolour Painting
Form and Freehand Drawing
Pastels
Modeling
Class Play
Handwork
Knitting in the round
Projects such as knitting a hat, pair of socks, or a clothing item
Music
Recorder Work
Singing in rounds
Violin (as availble)
Choir
Physical Education
Cooperative Team Games
Regular Nature Walks/Hikes
Nature-Based & Curriculum-Related Field Trips
Recess/Free Play
Pentathlon

Physical activity is a key component in Waldorf education. Seen as a necessity for all children, movement throughout the day supports learning and physical development. In 5th Grade the act of 'competing' comes into the fold, as children take part in the Pentathlon. For this event RRS students travel to the mountainous regions of Flagstaff where they spend a few nights in cabins and complete alongside state-wide Waldorf schools in Greek games in the spirit of Olympiads. During this time the 5th Graders learn what it means to compete, with an emphasis being placed on focusing on competing against yourself to be the best you can be, and supporting your opponents with good sportsmanship. During Pentathlon training our children are encouraged to focus on the Greek ideals of beauty, strength, and truth.
The grace, focus,  courage, determination and skill exhibited during their athletic endeavor are only a part of this event. Fairness, interest in and support of the others are equally important qualities this festival fosters. Class teachers, movement teachers, and other special subject teachers collaborate to enrich the curriculum around the Pentathlon Festival.

The students train hard in the ancient Greek disciplines of Running, Jumping, Wrestling, Discus and Javelin. These events are called disciplines because the merciless objectivity of each activity schools the child's body, builds confidence, tempers the emotions, demands full attention to detail and creates an awareness of how one approaches competition and self-motivation.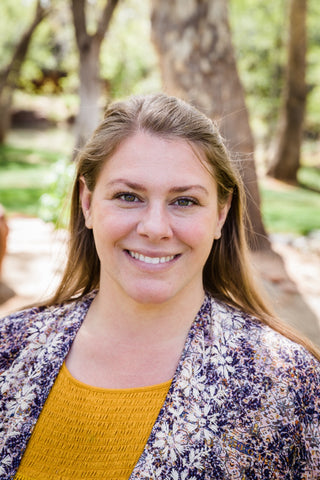 Fifth Grade Teacher
Erika Witkop
Ms. Erika has a diverse background of experience with children, including special education, remedial support, subbing, assisting, and teaching yoga. She is committed to helping guide and assist her students to achieve their goals while instilling a love of learning and understanding their place in community.
Admissions Inquiry
Running River School uses an open enrollment model whereby a student may enroll at any point in the year (up through April 15). Please inquire about openings or to be placed on a waitlist.